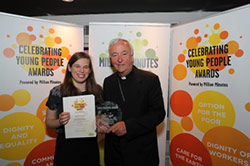 When I visited our seafarers' centres and chaplaincies in the eastern seaboard of the country, it was obvious that most of our ship visitors, Chaplains, managers and volunteers were in their senior years. It was impressive to watch their generosity and deep concern for seafarers from all over the world. They were real signs of God's presence in our ports.
But, in other parts of the world, there is a new awareness among young people to share their generosity and faith with seafarers. At Plymouth in the United Kingdom, a 24-year old ship visitor, Hannah Forrest, was recognised by a charitable organisation for her volunteer work.
Million Minutes, according to its website, hosts the annual Awards to "honour the achievements of those truly remarkable young people who make our communities and our world a better place. Their achievements are an inspiration for us all."
Meanwhile, in Australia, there are initial efforts to encourage and support young ship visitors. In Melbourne, one of the ship visitors is in his mid-twenties. In Brisbane, a part-time staff in his early thirties, visits ships regularly. In Bell Bay, Tasmania, the son of the Seafarers Centre's Coordinator (Catholic Representative), who is in his early twenties, assists in welcoming seafarers at the centre.
Indeed, this ministry to seafarers can also be embraced by young people. Now is the right time to spread awareness among them that they can truly share God's love, hope and joy with thousands of seafarers that visit the ports around our country.
For information about your closest Stella Maris centre or chaplaincy, visit the Contact Us page on this website.